The Comprehensive development Program for the Ukrainian financial sector by 2020 has begun a comprehensive reform of Ukraine's financial system. Within the framework of the reform program, the stages of clearing and restarting the financial market were completed, and measures were taken to introduce international standards of activity in the markets of non-banking financial services and securities. While completing the implementation of the Comprehensive Program and in order to further develop the financial sector of Ukraine, regulators have started to prepare a new strategic document for 2020-2025 aimed at ensuring the sustainable development of Ukraine's financial system.
The purpose of preparation of the Strategy of Ukrainian Financial Sector Development until 2025  is to determine the strategic directions and priorities of development of the financial system of Ukraine until 2025 and to introduce mechanisms of coordination of regulators of the financial sector, government, state bodies and professional market participants to achieve the ultimate goals of financial sector development.
Plan of preparation of the  Strategy of Ukrainian Financial Sector Development until 2025 :

The Strategy identifies five strategic areas: financial stability, macroeconomic development, financial inclusion, financial market development and innovative development. Each direction has its own strategic goals and performance indicators.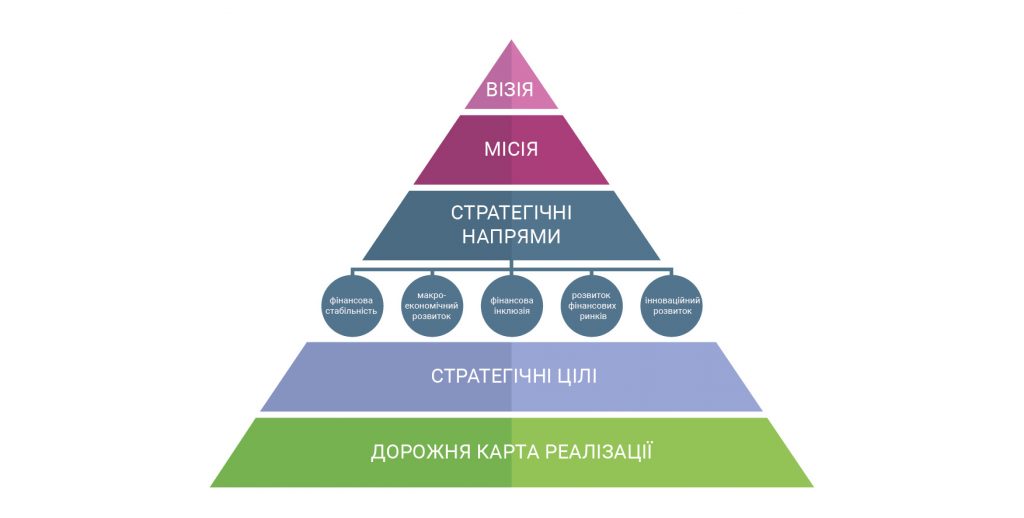 The Strategy will be implemented through the implementation of individual activities (projects), envisaged by the Strategy Roadmap, in accordance with the principles of project management. In order to coordinate and monitor the implementation of the measures, it is envisaged to establish a Steering Committee with involvement of regulators, the Ministry of Finance, Deposit Guarantee Fund, professional associations of market participants.
Dialogue with the expert community and financial market participants will, inter alia, take place through the Strategy's website on the National Bank's official website. The collection of written proposals and remarks on the vision of the future financial sector of Ukraine in 2025, the goals of the Strategy, indicators of their implementation, as well as the necessary measures and actions to achieve them are currently ongoing. The proposals will be collected and processed through September 30 inclusive.
By the end of September, a series of roundtables will be held with the participation of experts, financial market participants, representatives of the IT sector, international organizations, as well as other state bodies of Ukraine.
Preparation of the draft strategic document after the collection and processing of all proposals is scheduled for October 2019, and approval of the Strategy for November-December this year.
The  Strategy of Ukrainian Financial Sector Development until 2025  – Concept
Presentation on the main directions of the Strategy of Ukrainian Financial Sector Development until 2025